It's another Chinese New Year dishes post even thought Chinese New Year is officially ended after the "Chap Gor Meh" (15th day of Chinese New Year). During CNY, I had a lot of home made dishes which was cooked by my mum and grandma. So, we had a home made steambot on "Chu 1" which was 26th Jan 2009. My mum had prepared a lot of ingredient such as prawn, fish head, vegetable, meat ball, fish ball, black pepper sausage, mushroom and etc. It was a great home made steambot! Let's go for the post.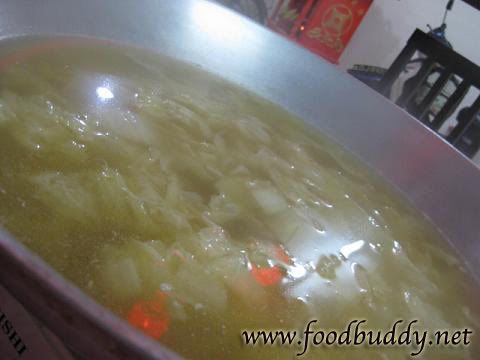 * Steambot Chicken Soup – This was the soup which my mum boil it with chicken since morning, the soup was already taste great before we put in all the ingredients. As you know, by putting all the seafoods and vegetables into the steambot soup can make the soup to be more fragrant!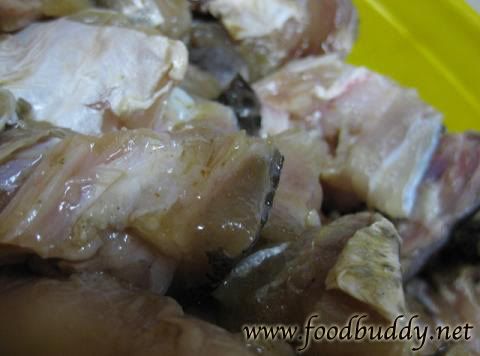 * Fish Head – We all love fish head instead of fish meat because the meat for fish head is more delicious and smoother than fish body meat. It's one of the killer-ingredient to make the soup to be more delicious and aromatic.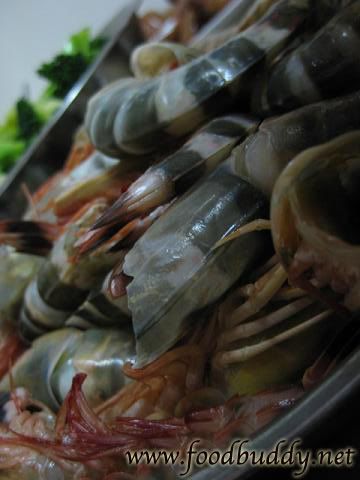 * Tiger Prawn – The meat for tiger prawn will be more tough compare with normal prawn. Some people like it and some people don't like it, I have no idea because I'm not a prawn lover.
(more…)
Tomorrow is "Chap Gor Mer" (The 15th day of Chinese New Year), which mean Chinese New Year will be officially ending by tomorrow. Most of the "Hokkien" prayed at "Chu 9" (The 9th day of Chinese New Year), and most of the "Cantonese" will be praying at "Chap Gor Mer" as well.
During Chinese New Year, I had a lot of CNY dishes that cook by my lovely mum. Other than this, there was a lot of Chinese New Year Biscuit as well! Just some of them made by my mum and grandma, for the rest, my mum bought it. All were packed nicely in bottles. Here we go..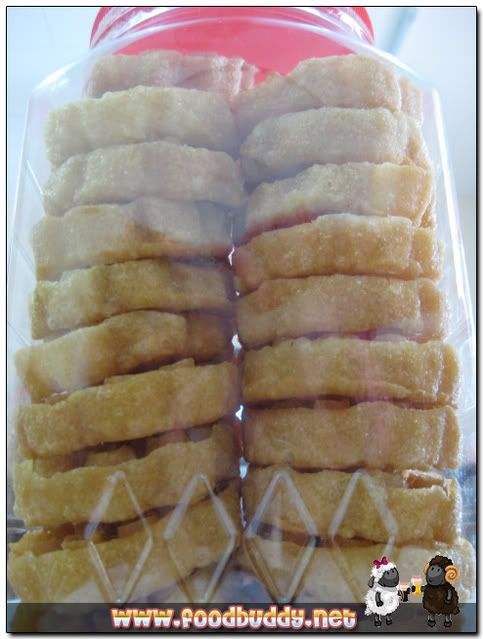 (more…)
Time goes very fast, Chinese New Year is going to be ended and I have gone back to normal life. I enjoyed the time and life during Chinese New Year in my hometown (Taiping). My mum had cooked a lot of great and delicious foods for us, I will be sharing with all of you about what my mum cooked on the first day of CNY which was "Chu Xi Ye" (In Mandarin). Between, this was what we usually ate during some Chinese Festival, I enjoyed them a lot.
During Chinese New Year in Taiping, I played a lot and ate a lot. The only thing I didn't do was I didn't try any other Taiping food as I planned earlier, because I had no time to go anywhere other than meet friends. That's fine, now we go on the foods that my mum cooked.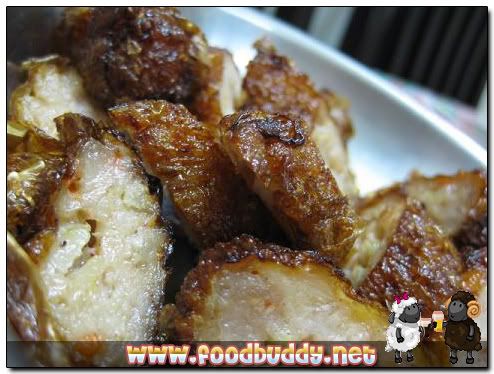 (more…)
Jan 4, 2009 Author: KaHoongChai | Filed under:
Chinese Food
,
Food & Drinks
,
KaHoongChai's Diary
,
Taiping
Wong Kok Restaurant is a small restaurant that located at Taman Kami, Aulong Taiping. It's a small shop lot insides a Food court named 555 Food Court. The restaurant opened for about 6 months already if I'm not mistaken, the cook learned a lot from many Cook Sifu. If I'm not mistaken, he worked in Kum Lun Tai before too. My family and I always went there for dinner or yam cha everytime I back to Taiping because the cook is my dad's best friend.
The cook, my dad's best friend not only a good cook but a friendly and kind people too. Since it's a small restaurant, he don't have much seafood in the store but you can try to order, or perhaps you can order the seafood before the day you go so that he can buy the seafood. Although it's a small restaurant, but the dishes can consider the best in Aulong.
So, we had 4 persons which are my parents, my grandpa and I, we ordered 4 dishes for our dinner. I like all the dishes, the tastes are very good!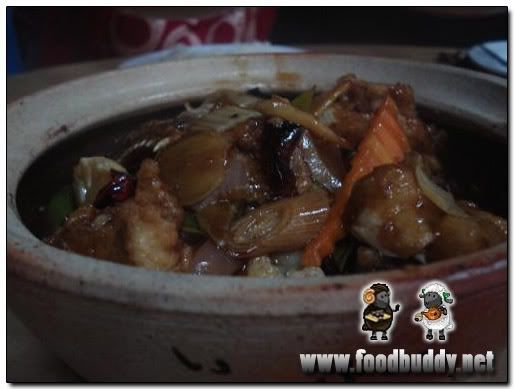 * Craypot Fish Head – This is the dishes that I first order. The fish was very fresh. This craypot fish head mix with some vegetables, carrots, mushroom and some other ingredients. What I can say is, Best! (more…)
Jan 2, 2009 Author: KaHoongChai | Filed under:
Chinese Food
,
Food & Drinks
,
KaHoongChai's Diary
,
Taiping
Kok Beng Chicken Rice Restaurant is the best Char Siew & Chicken Rice restaurant in Taiping. Before they renovated the restaurant, that was a small shop besides the restaurant. The most popular food is the Char Siew, the Char Siew is definitely delicious with its' ingredient. I ate their Char Siew and Chicken Rice for more than 10 years already. Recently I back to Taiping and went back to the restaurant, their Char Siew was still as delicious as before.
I ordered Chicken Rice mix with Char Siew, they put the ingredient for Char Siew, everything looked great and delicious! I don't know how can I describe it, you try it and you know how did I feel.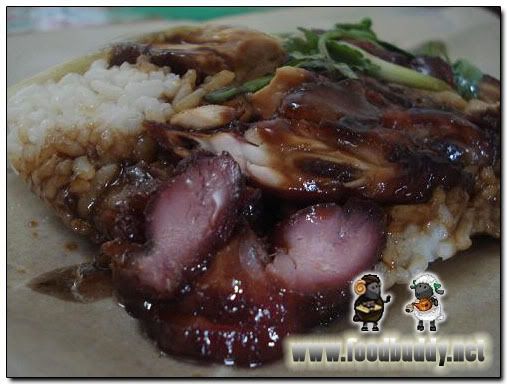 * Chicken and Char Siew Rice – I personally like the Char siew very much, especially the ingredient. I ordered extra chicken and char siew rice, the price was reasonable and it was just RM5.00. Worth it! (more…)
Dec 30, 2008 Author: KaHoongChai | Filed under:
Chinese Food
,
Food & Drinks
,
KaHoongChai's Diary
,
Taiping
Everytime I back to my hometown which is Taiping (Rain Town), I'm sure will be visiting Robert & Bakery and buy some pastries, breads, or biscuits. I like their foods because it's very fresh, it is because of they either bake new cakes and biscuits or get from their suppliers every day. So, all the foods are not overnight and are fresh everyday, this is what I like.
Robert & Bakery is one of the famous bread and cakes shop at Aulong, there is always full of customers at night. So, this time I back to Taiping, I visit the bread shop again. This time, I just eat the Egg Tart and "Gui Nian Gou". The shop opens from 2pm until 11pm, when you first go there at 2.30pm and the Egg Tart is still hot and crispy, very good taste!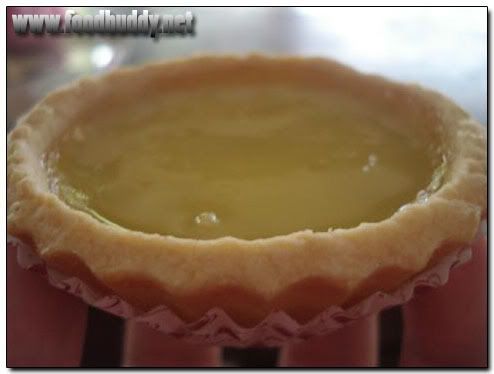 * Egg Tart – A very good taste, crispy and fresh Egg Tart. It has 2 different colour and favor which is yellow and green. Yellow is the normal Egg Tart and green 1 is made from pandan, you know that right? I recommend you to find and try it if you're planning to go Taiping. (more…)