Recently I was too busy with my personal stuff and didn't have time to update my food blog, it's because I've to help my gf's brother in his wedding. I became his "brother" on last Sunday morning, it was quite fun and I enjoyed it.
Weeks ago, I had my tea time at Sushi Zanmai in One-Utama. Sushi Zanmai and Pasta Zanmai is the same restaurant but they separate to two, Sushi Zanmai sells Sushi, while Pasta Zanmai sells Pasta. I've dined in Pasta Zanmai for few times before, I love their Chicken Cheesy Pasta and Teri Chicken Pizza. So, I went to Sushi Zanmai for my tea break, we'd tried some of the Sushi only. They have other outlets in The Gardens and Sunway Pyramid as well.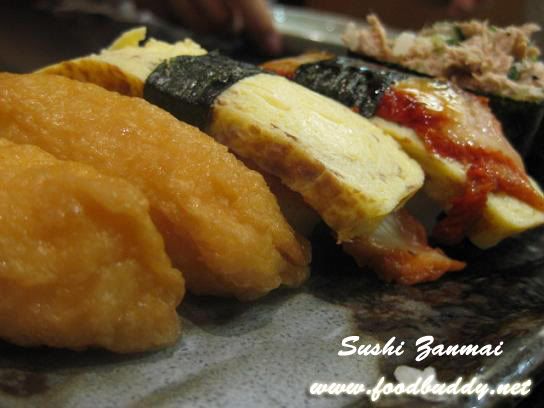 * Una Tama, Inari & Tuna Salad – I simply like the Una Tama, it consists of unagi & Omelette. The Inari Sushi consists of sweet beancurd, not too sweet and quite nice.



* FutoMaki – It consists of pickled radish, omelettle & cucumber. All the ingredients are fresh.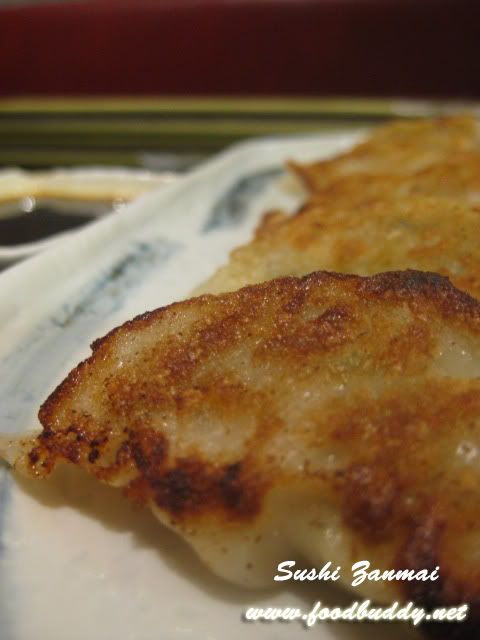 * Chicken Gyoza – It's pan-seared chicken & vegetable dumpling. You can actually get this dishes from other restaurant such as Hong Kong Restaurant, the price is cheaper than this. I can even get it in Ming Tien Hawker Center.

* Salmon Salad Maki – I didn't have it, my gf's sister ordered it. But the outlook seems nice, should be nice to eat.

* California Roll – It consists of avocado, crab meat & omelette with smelt roe. My gf ordered it. She said all the ingredients are fresh and it's delicious.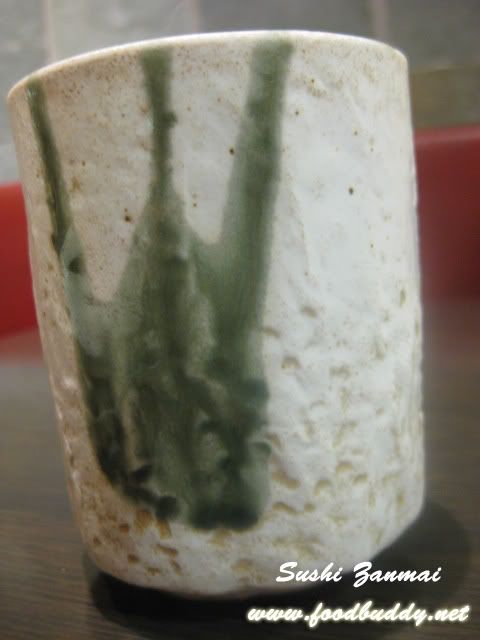 * Wet Tissue which has their logo and name.

* Menu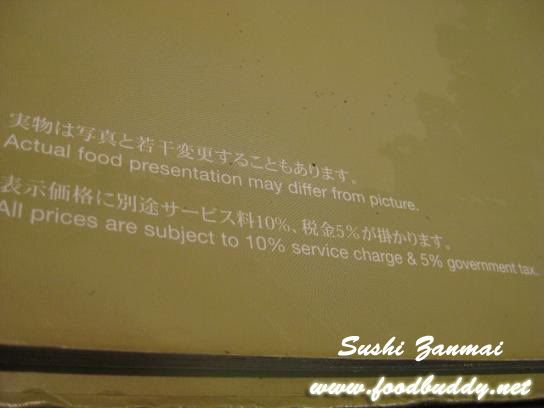 * This is the thing that I wanna show you, it's located at the last page of the menu. It stated "Actual food presentation may differ from picture". I just want to say that they're actually very honest about it, all the foods served were really different from the pictures, all the foods served were smaller than the pictures.

* There is many types of sushi for your choices.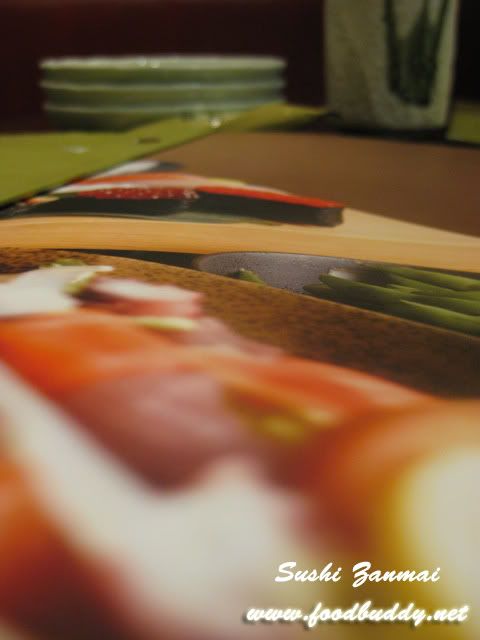 * Just a shot from the menu.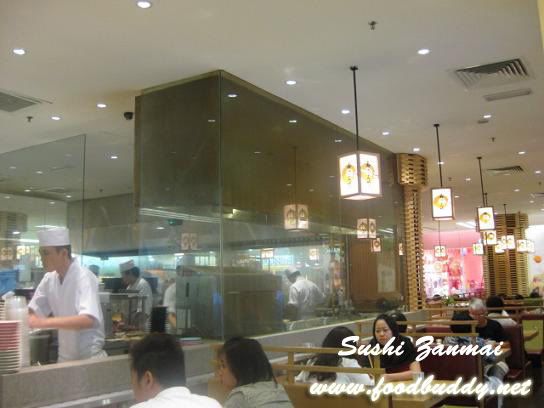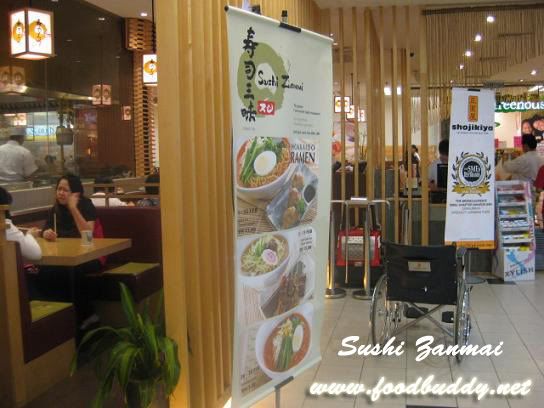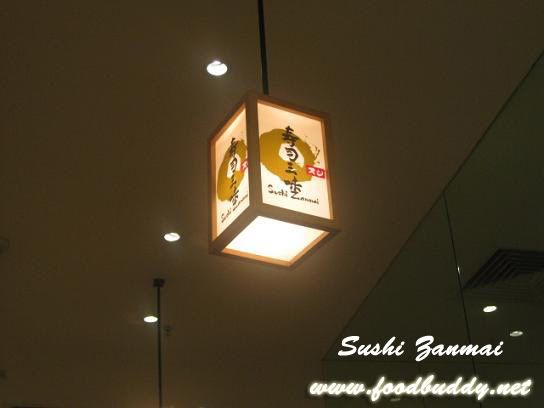 They have variety of sushi and dishes, we were just trying their sushi as our tea break. It was just okay, but you can have a try over there as well. The price is slightly cheaper than other Japanese Restaurant, but the price is equal to the size of foods. So, have you dined in Sushi Zanmai before?
Prices :
Una Tama – RM4.80
Inari – RM1.60
Tuna Salad – RM2.80
Futomaki – RM1.60
Chicken Gyoza – RM9.80
Salmon Salad Maki – RM4.80
California Roll – RM4.80
Ocha / Green Tea – RM3.00 / 3 persons
TOTAL : RM38.20 including 10% of Service Charge and 5% of Government Tax.
Address :
ONE-UTAMA
SK9A, Second Floor Highstreet, 1 Utama Shopping Centre,
No.1, Lebuh Bandar Utama,
Bandar Utama,
47800 PJ.
Tel & Fax : 03-7724 2030
Mobile : 012-771 2030
Business Hour : 10.00a.m – 10.00p.m (Sunday – Thursday) , 10.00a.m – 10.30p.m (Friday – Saturday)
THE GARDENS
T-217, Third Floor, The Gardens,
Mid Valley City,
Lingakaran Syed Putra,
59200 KL.
Tel : 03-2282 1160
Fax : 03-2282 3160
Mobile : 012-702 1160
Business Hour : 10.00a.m – 10.00p.m (Monday – Sunday)
SUNWAY PYRAMID
First Floor, Japanese Street, Oasis Boulevard 2,
Sunway Pyramid, Bandar Sunway,
46150 PJ.
Tel : 03-7492 3080
Fax : 03-7492 3090
Mobile : 012-989 3080
Business Hour : 12.00p.m – 11.00p.m (Monday – Sunday)
WEBSITE : http://www.supersushi.com.my