It's another Chinese New Year dishes post even thought Chinese New Year is officially ended after the "Chap Gor Meh" (15th day of Chinese New Year). During CNY, I had a lot of home made dishes which was cooked by my mum and grandma. So, we had a home made steambot on "Chu 1" which was 26th Jan 2009. My mum had prepared a lot of ingredient such as prawn, fish head, vegetable, meat ball, fish ball, black pepper sausage, mushroom and etc. It was a great home made steambot! Let's go for the post.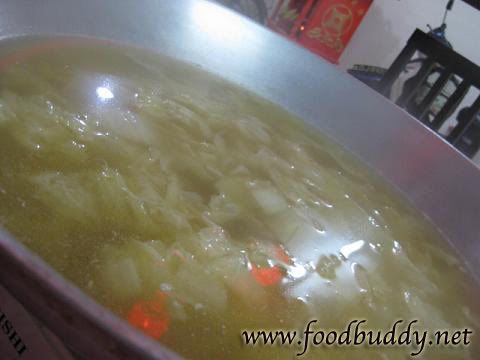 * Steambot Chicken Soup – This was the soup which my mum boil it with chicken since morning, the soup was already taste great before we put in all the ingredients. As you know, by putting all the seafoods and vegetables into the steambot soup can make the soup to be more fragrant!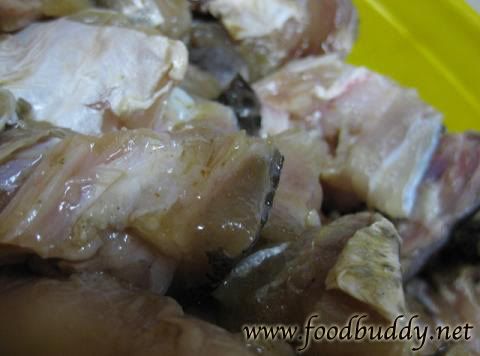 * Fish Head – We all love fish head instead of fish meat because the meat for fish head is more delicious and smoother than fish body meat. It's one of the killer-ingredient to make the soup to be more delicious and aromatic.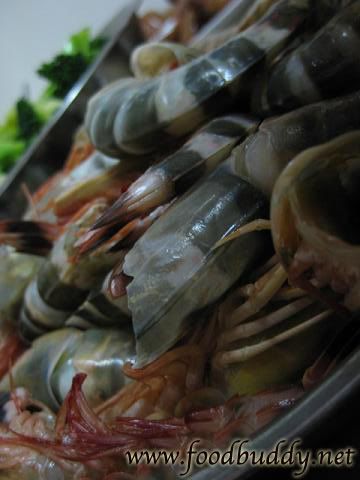 * Tiger Prawn – The meat for tiger prawn will be more tough compare with normal prawn. Some people like it and some people don't like it, I have no idea because I'm not a prawn lover.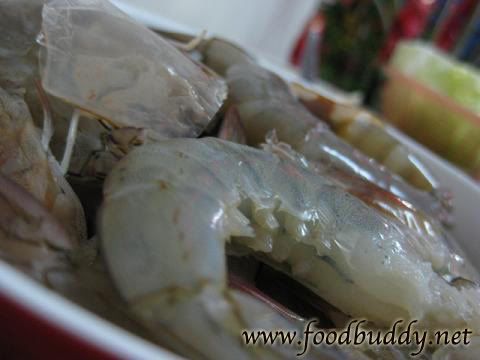 * White Prawn – It's White Prawn or normal prawn. The meat for white prawn will be softer.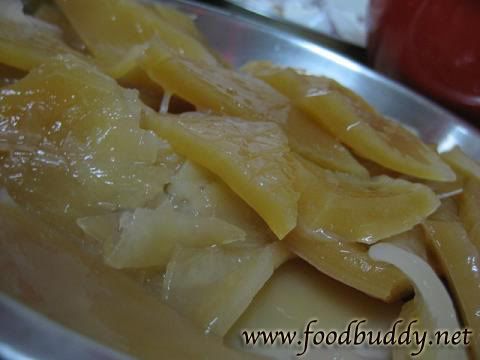 * Sotong – I'm not really like this because it's bit hard for bitten, but not 100% ignore it also, I just had some of it.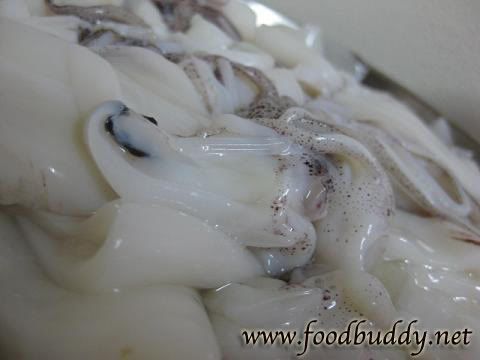 * Squid – I forgot whether I had eaten it.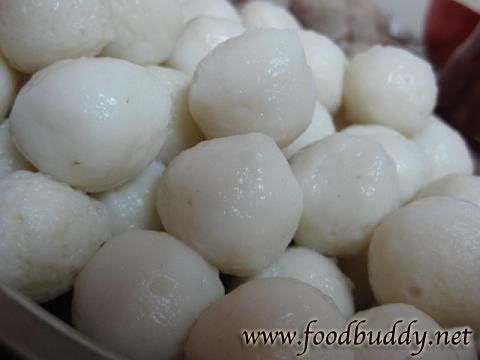 * Fish Ball – My mum bought it from Pasar in the morning, it was fresh. I'm not a fish ball lover because sometimes they're not fresh and stenchy.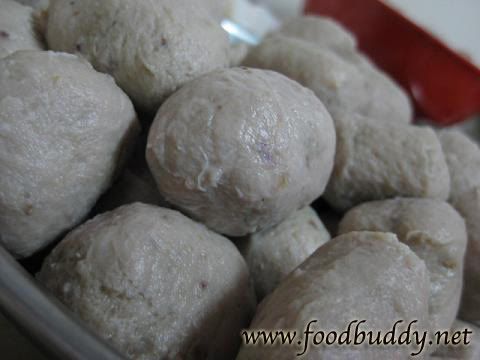 * Meat Ball – I love meat ball! It's a must for me while eating steambot.

* Black Pepper Sausage – Usually people take black pepper sausage for BBQ, it was my first time having black pepper sausage in steambot style. The taste was quite good, but BBQ better.

* Mushroom – I forgot whether I had it too.

* Gold Needle Mushroom – I have no idea about what to call this in English, normally we call it "Kam Zham Gu" in Cantonese.

* Fu Pei or Fu Zhok – It's really must for steambot! It's rarely to see this type of Fu Pei in KL, but normally we had this in Taiping. It's my favourite!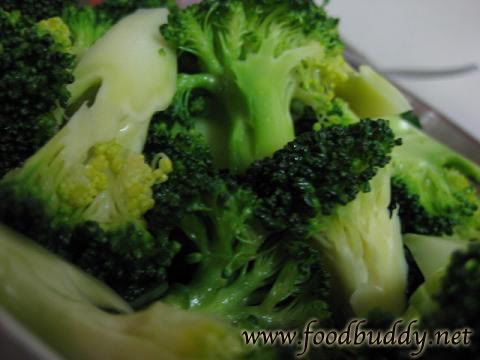 * Bao Choi Fa – Don't know what's this called in English too.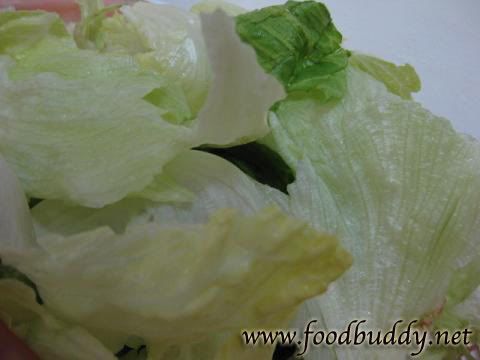 * Bo Li Shang Vegetable – Don't know what's this called in English too.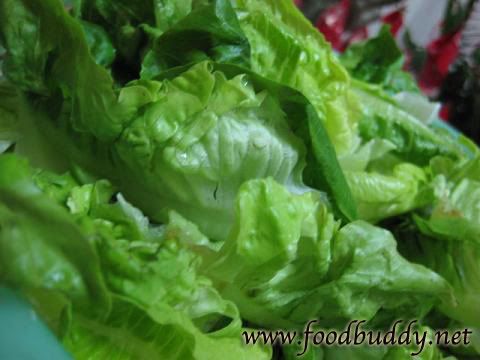 * You Mak Vegetable – This was something that I ate in Choong Kee Craypot Chicken Rice Restaurant.

* Laver – Usually we just put it in and rarely eat it, but it will stick with other ingredient. So end up we will finish it too.

* Fried Oil Garlic – We put some into the Steambot soup to make it more tasty.

* We put all the ingredients on the table.

* Ok, put all in together already. Used a cover and covered it, let it cooked for about 15-20 minutes until all the ingredients were cooked.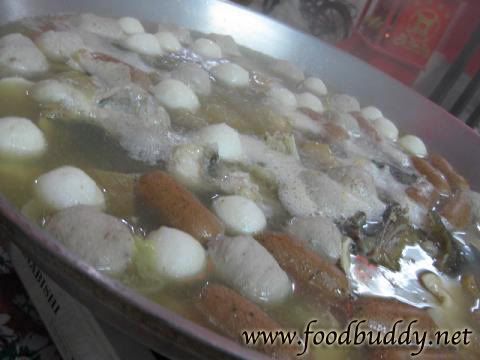 * Yeah! It's ready to eat!

* KampungKok Chili Sauce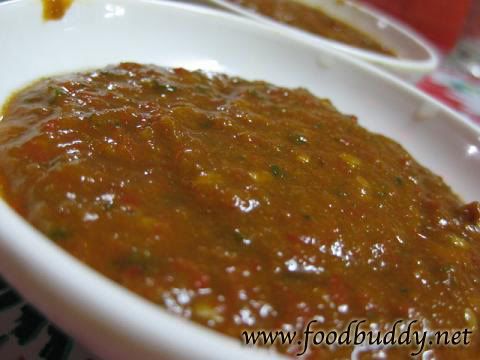 * Sambal Sauce

* "Cili Padi", KampungKok Chili Sauce and Tomato Sauce
Of course, we can't missed out all the sauces to be eat together! Usually I will just eat the tomato sauce and mix some Fried Oil Garlic insides, it was a great sauce! We got noodle too, but nobody ate it because everyone was very full after 2-3 rounds fighting with all the ingredients.
It was absolutely a great family steambot during Chinese New Year, I missed it so much! Other than eating, we chat and laughed together, it was a great and awesome dine with my family during CNY. I wish everyone all the best and good health!
Have you eaten such type of homemade steambot with your family or friends before?