Choong Kee Kampar Claypot Chicken Rice Restaurant is a restaurant that located in Damansara Jaya which is just nearby The Mage Cafe. As the restaurant name, it sells Kampar style Claypot Chicken Rice. Before this Choong Kee Restaurant opened, it's just a small food stall insides a Kopitiam named Kun Kee Kopitiam which is just located the same row with the current Choong Kee Restaurant. They just opened at night time when they were still a food stall in Kun Kee Kopitiam, after the renovation in Kun Kee and they have finally opened a own shop for their own Kampar Claypot Chicken Rice.
Other than serving Craypot Chicken Rice, they have few different types of fresh vegetables and steamed soup which you can take it as side dishes. For the Claypot Chicken Rice, you can have a normal claypot chicken rice which consists of little chicken and little sausage, you can add egg, chicken, salty fish and sausage. I used to eat the Claypot Chicken Rice with Salty Fish and Sausage (We call it as "Lap Cheong").
Other than this, the special of Choong Kee Claypot Chicken Rice is they cook the Claypot chicken rice with oldish style which is cooked by using charcoal burn. It's difficult to get those Claypot Chicken Rice that cook with Charcoal burn style because most of them are using gas now. By using charcoal burn style, it keeps the original taste for the Claypot Chicken Rice, it makes the Claypot Chicken Rice more nicer than using gas. The restaurant is always full during lunch time and dinner time.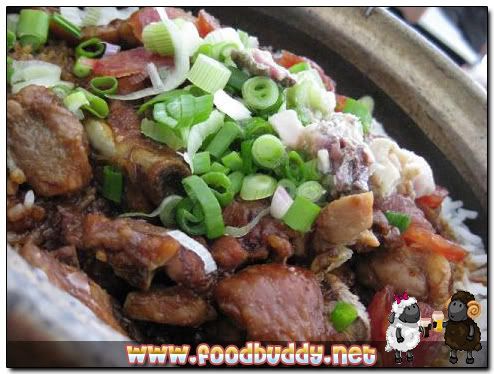 * Claypot Chicken Rice with Salted Fish and extra Sausage – This was what I usually ordered, the chicken is very smooth and it melts in seconds once you put in your mouth, the taste is really good! The sausage won't be too salty, it's really delicious to eat with rice. The salted fish is not much but it makes the whole chicken rice taste good and good smell!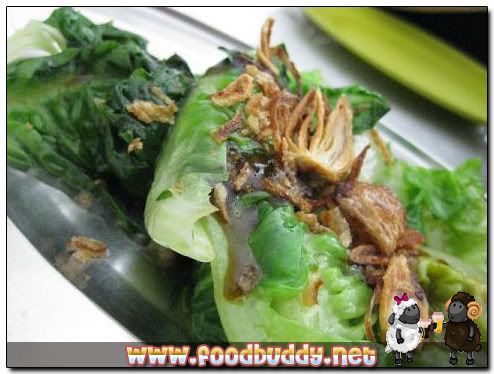 * You Mak Vegetable – The vegetable is very fresh. The thing I like with the You Mak is the fried onion, they fry the onion themselves but not those Ready Packed Fried Onion. It's fresh and has better taste.

* They have big and small for the claypot chicken rice and vegetables. They also have steamed soup special and it's only cost RM5.00 per pot, I have tried the Black Pepper Pork Stomach Soup (胡椒猪肚炖汤), it's very nice and suggest it to try it. For other soup, I pass it to you to try the others and let me know how is it. lol!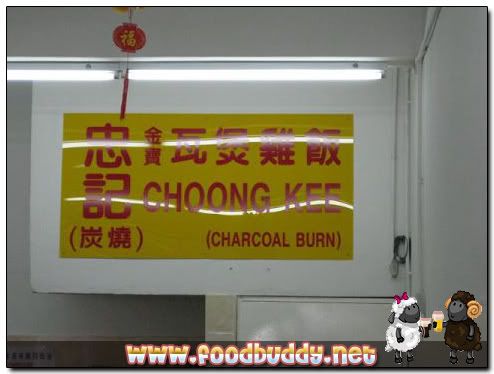 * Choong Kee Kampar Claypot Chicken Rice Restaurant
The Choong Kee Kampar Craypot Chicken Rice Restaurant is just located besides the Cinta Ria DJ which is a Western Cuisine Kafe, or behind DOMINO Pizza, Damansara Jaya. The price is reasonable as you can see the price at the Menu. But, the woman boss is a "hot chilli", if you're not lucky, she might burn you with no reason.
Price :
1 Big Claypot Chicken Rice + Salted Fish + Sausage – RM15.00
1 Small You Mak Vegetable – RM4.00
2 Drinks – Approx. RM3.50
TOTAL – RM22.50 for 2 persons
Address :
No.80, Jalan SS22/25,
Damansara Jaya,
47400 Petaling Jaya,
Selangor
H/P : 017-871 7739 / 016-294 8983 (You can call to make order before you walk in)
View the map in Google Map.

View Larger Map