Nov 26, 2008 Author: KaHoongChai | Filed under:
KaHoongChai's Diary

Christmas is coming soon and the Christmas feel is surrounding the blogosphere. Today, I change my theme to wait the coming of Christmas! I love Christmas because it's giving me a warming feel and romantic, Christmas Day is just like Valentine Day, it's a great day! I wish everyone happy and may your wish come true on Christmas Day!
I just Google about free Christmas WordPress Themes and I found this. I believe that you can get few Christmas WordPress Themes by Google it, but this is the only Christmas themes I like, it's cute and plain. I changed my themes to this Christmas WordPress Themes few minutes ago, I decide to share it with everyone and hope you all join me with the Christmas WordPress Themes.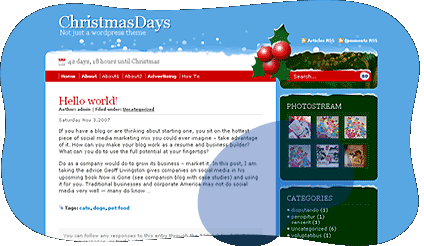 Anyway, you can download this Christmas WordPress Themes by clicking :
> DOWNLOAD Christmas WordPress Themes <
Other than that, there is a great plugin that purposely created for this Christmas Themes. It's a snowfall plugin, you can see it in my blog, is it nice? Anyway, you can also download the "Let It Snow" WordPress plugin by clicking :
> DOWNLOAD Snow Plugin <
You can now download it, upload it and let us have the same mood together now! Do you like this Christmas WordPress Themes?
I wish you Merry Christmas!